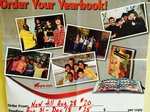 Yearbook Sale are now $30!
Yearbooks for the 2018-2019 School Term are available for purchase for $30.00 beginning January 8, 2019. Please send the yearbook money to your child's homeroom teacher. For additional questions regarding the yearbook, please contact, Ms. Kerns, skerns@henryschools.org.
Last day to order a yearbook is Monday, May 6th.
Thank you for your support!